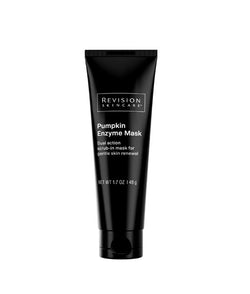 Revison
Pumpkin Enzyme Mask
Dual action scrub-in mask for gentle skin renewal. Polish + Glow with double action Pumpkin exfoliators - physical and enzymatic - to instantly revitalize the complexion. Leaves the skin feeling smooth and looking healthy. Gold Brazilian clay helps draw out impurities and toxins from the skin. High in antioxidants that help skin combat environmental stressors. Replenishing blend attracts moisture to hydrate and soften the skin.
Sweeps away dead skin cells to reveal healthy, beautiful skin.
Instantly revitalizes skin with a youthful, refreshed glow.
Detoxifies and helps draw out impurities and toxins from skin.
Helps to combat environmental stressors.
Hydrates and softens skin.
Has a rich pumpkin scent that delivers a sensorial experience.