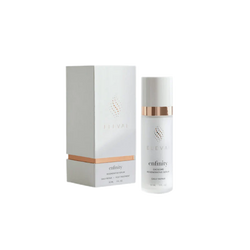 Elevai Labs
Elevai Enfinity
A rejuvenating serum for at-home daily use with an effective blend of ELEVAI Exosomes™ combines nano-encapsulated stem cell growth factors, powerful peptides, and the highest quality skincare ingredients available to support skin health and rejuvenation. With daily use, you will experience healthier, more balanced skin with results you can see and feel.
EXOSOMES
Helps to activate the skin's natural healing process to extend the results of in-office procedures.
VITAMIN C
Our proprietary blend of 4 highly bioavailable types of vitamin C deliver antioxidants in a form that is 50x more powerful than standard Ascorbic Acid. to penetrate deep into the skin and neutralize damaging free radicals.
HYALURONIC ACID
Promotes hydration through powerful water-retaining molecules and deeply penetrating components to benefit skin hydration and plumpness.
COPPER PEPTIDES
Supports the body's stem cell populations and works synergistically with ELEVAI exosomes, promoting skin elasticity, and reducing the appearance of fine lines and hyperpigmentation.